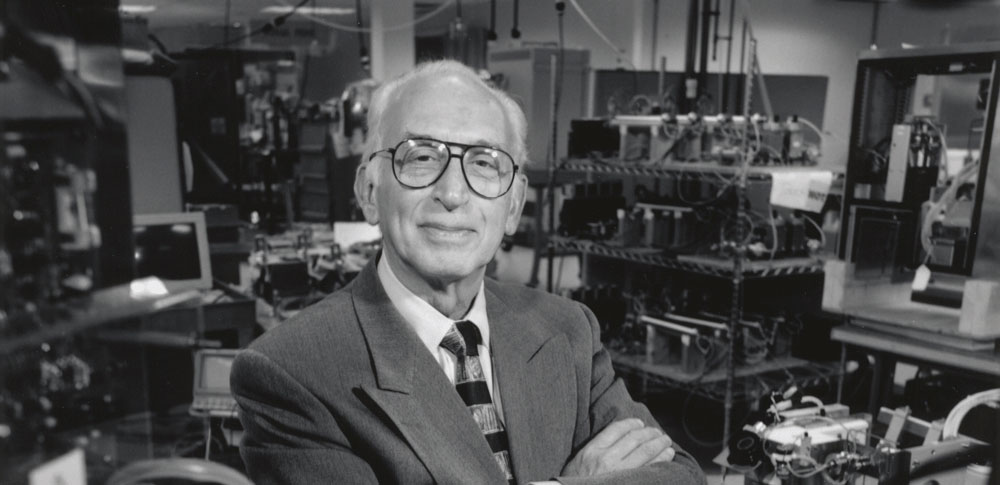 Photo: Jim Harrison
George Hatsopoulos
Technology, the Economy & Employment
3rd Heinz Awards - 1996
Dr. George N. Hatsopoulos received the 3rd Heinz Award in Technology, the Economy and Employment for his development of the thermionic converter and his innovative methods of creating new technology-based enterprises.

As a teen-ager in Nazi-occupied Greece, Dr. Hatsopoulos built and sold illegal radios and transmitters. Later, as a young man, he won a scholarship to MIT to study mechanical engineering with the goal of becoming both an inventor and a businessman. Forty years later, in an age focused on core competencies, his company, Thermo Electron Corporation, is a pacesetter eager to experiment with new technologies and build new subsidiaries around them. Dr. Hatsopoulos transformed a once small laboratory into a world leader in environmental monitoring, biomedical manufacturing and many other specialized products and technologies. The company employs over 17,000 people and has annual sales of $3 billion.

"You can't be enamored with technology," Dr. Hatsopoulos has said. "You must instead be driven by the needs of the marketplace." That pragmatic philosophy has been a useful guide to the founder and now CEO of the Massachusetts-based company.

Dr. Hatsopoulos' success began when he devised a theoretical engine that converted heat directly into electricity without using any moving parts. His thermionic converter, the first in an impressive string of technological innovations, became the catalyst for the creation of a company that is today an international leader in manufacturing. Based on an ever-increasing number of ideas and technologies coming from Thermo Electron, the company is often referred to as a "perpetual idea machine." Dr. Hatsopoulos sees those ideas not just as new products, but also as seeds for new businesses. He developed a strategy to make each new technology the core of its own new subsidiary, armed with the flexibility and resources to explore further innovation.

Thermo Electron is now parent to 18 of these "spin-out" companies, all designed to motivate entrepreneurship. Thermo Electron is careful to explain that it spins out, not spins off, its companies. The company always retains a majority stake in each new endeavor and offers its new stock to the public and not to existing shareholders. The corporate parent then continues to provide strategic planning, employee benefits and pension fund management, executive recruiting and other internal administration services, thus freeing up the subsidiary to focus on innovation and market needs.

Dr. Hatsopoulos' formula for success is really very simple. He seeks to anticipate society's problems, develop the technology to solve them, and have the product on line in time to meet the need. But it is in his implementation of that formula that he stands apart as a business leader. In creating a new corporate structure, he has discovered a way to sustain growth in today's rapidly changing world markets.

Note: This profile was written at the time of the awards' presentation.

REMEMBERING
George Hatsopoulos passed away on September 20, 2018.