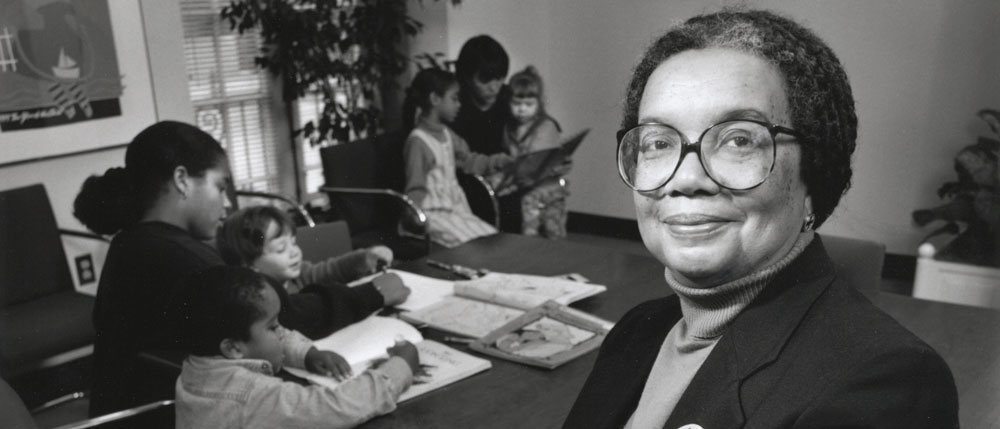 Photo: Jim Harrison
Marian Wright Edelman
Human Condition
2nd Heinz Awards - 1995
Marian Wright Edelman received the 2nd Heinz Award in the Human Condition for her dedication to protecting the rights and meeting the needs of America's children.

From her work with poor children in Mississippi in the 1960s to the present, Mrs. Edelman has endeavored to give all children the public voice they lack, yet so desperately need. Through her creation of the Children's Defense Fund (CDF) over 20 years ago, Mrs. Edelman has sought to bring the plight of children to the attention of policy makers and the public. Just as important, she has been a vigorous advocate for the creation and funding of programs to improve children's lives, strengthen families, and weave a web of community support for children. In a world in which children are too often overlooked, or are blithely used as props in battles between adults, Mrs. Edelman urges us to remember children and their distinct needs.

Mrs. Edelman was raised to believe that it is every person's duty to help improve the lives of others. From this upbringing and her childhood in the segregated South, she derived a personal philosophy that has guided her throughout her life: "If you don't like the way the world is, you have an obligation to change it," she says. "Just do it one step at a time."

From an early age, Mrs. Edelman knew that the world she wanted most to change was the world inhabited by children, especially the children of the poor. A graduate of Spelman College and Yale Law School, she became, while serving as head of the NAACP Legal Defense and Education Fund's office in Jackson, the first African-American woman admitted to the Mississippi state bar. Following a move to Washington, D.C., she became counsel to the Poor People's Campaign and later established the Washington Research Project, where she lobbied Congress for expanded child and family nutrition programs and an expanded Head Start program. In 1973, she founded the Children's Defense Fund.

Mrs. Edelman has described America's overarching challenge as the need "to rebuild a sense of community and hope and civility and caring and safety and morality for all our children." It is an ambitious agenda and it is one that reflects her work through the past two decades. Through the CDF, Mrs. Edelman was instrumental in persuading Congress to overhaul foster care, support adoption, improve child care, and protect handicapped, homeless, abused and neglected children. CDF has also worked to curtail teen pregnancy, encourage immunizations of poor children for major childhood diseases, and distribute information about programs that help African-American children and preserve their families.

Mrs. Edelman has never shied from controversy in her single-minded pursuit of a nation more attentive to the needs of its children. She recalls urging a group of teenagers the day after Martin Luther King was assassinated to forego violence and to think about their futures. One of the youths responded, "Lady, why should I listen to you? I ain't got no future." Marian Wright Edelman will undoubtedly continue her mission to ensure that every child is given reason to believe in the future. At a time of momentous change in government, it is important that we each remain mindful of her timeless admonition to "remember the children."

Note: This profile was written at the time of the awards' presentation.