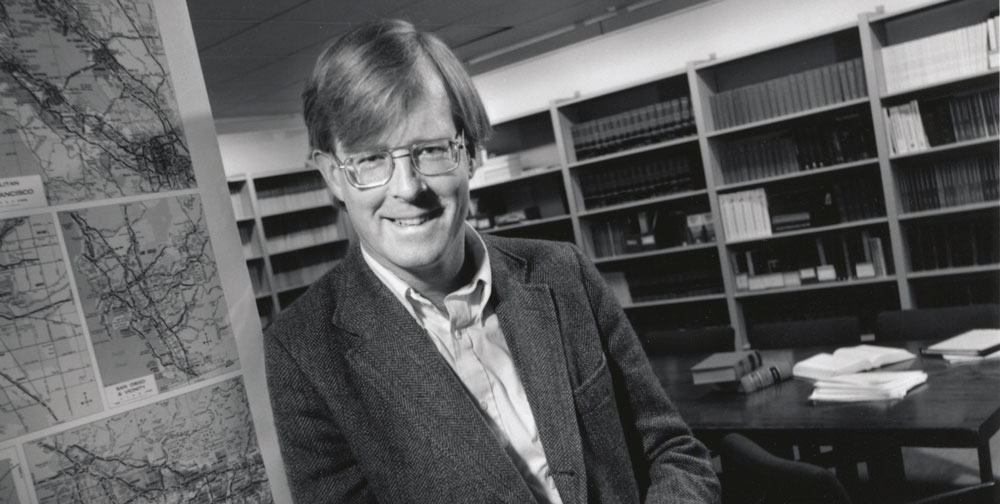 Photo: Jim Harrison
Ralph Cavanagh
Public Policy
3rd Heinz Awards - 1996
Ralph Cavanagh received the 3rd Heinz Award in Public Policy for his work in persuading legislators and regulators to permit utilities to earn money by saving energy.

Mr. Cavanagh, co-director of the Natural Resources Defense Council's Energy Program, epitomizes the power of the thinker, the convener and the listener. An optimist by nature who believes that win-win situations are possible with enough hard work, Mr. Cavanagh has been a leader in implementing the notion that environmental solutions should contribute to the bottom line of polluting businesses which traditional regulations prevented. His unparalleled success in persuading regulators of the merits of this once unorthodox view helped to prove that utility regulatory reform is viable and yields substantial environmental gains. He has used public policy in an exemplary way to bring about positive, widespread changes in existing regulations and practices.

A graduate of Yale University Law School, Mr. Cavanagh possesses impressive credentials. In addition to his duties at the Natural Resources Defense Council, he is a past member of the Energy Engineering Board of the National Academy of Sciences, and a visiting professor at both Stanford University and the University of California, Berkeley. But it is in the Byzantine trenches of utility policy reform that he has built his considerable reputation.

Beginning in 1979, Mr. Cavanagh focused his efforts on the electric utility sector, then accounting for as much as two-thirds of the nation's principal air pollutants. His goal was to improve the alignment of shareholder and societal interests, so that utility profits were no longer primarily linked to promoting increased electricity use. First in the Pacific Northwest and later in California, he helped build coalitions of utilities, consumer groups, industries, regulators, and others to unleash the power of energy efficiency and renewable energy resources. Northwest utilities with which Mr. Cavanagh worked have reduced electricity needs since 1980 by the equivalent of a Seattle-sized city, while eliminating divisive conflicts over new coal-fired and nuclear plants that all parties concede are no longer needed.

In California, Mr. Cavanagh helped organize the "California Collaborative," a set of structured negotiations among a host of traditionally opposing interests throughout the state. Since 1990, that initiative has yielded utility-financed energy efficiency improvements large enough to significantly reduce pollution and cut Californians' energy bills by more than two billion dollars. More recently, in 1996, he shared credit for the nation's most ambitious multi-state energy conservation partnership, the Northwest Energy Efficiency Alliance. Additionally, throughout the Pacific Northwest and California, Mr. Cavanagh has worked to guarantee that low-income citizens share equally in the benefits of sustainable energy investment.

Mr. Cavanagh is the first to admit that he did not invent the idea of aligning utility shareholder and societal interests, but he is the man who proved it could be implemented on a large scale. As is so often the case, the true mark of leadership was Mr. Cavanagh's ability to understand the concerns of all parties, and to then build a solution each party felt met its essential needs. That brand of leadership is rare, but Ralph Cavanagh, through an inspired mixture of brilliance, insight and perseverance, exhibited it in achieving one of the most sweeping regulatory turnarounds of recent times.

Note: This profile was written at the time of the awards' presentation.