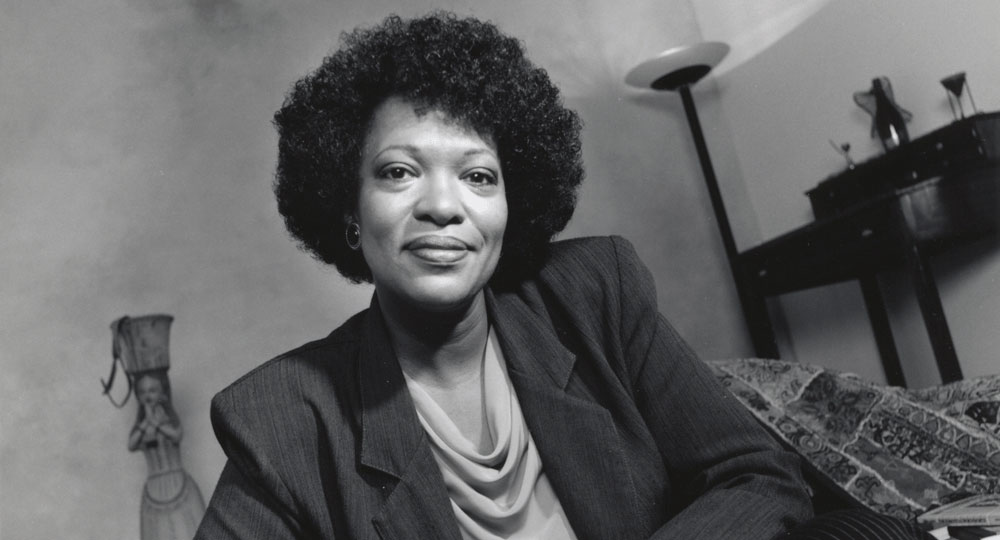 Photo: Jim Harrison
Rita Dove
Arts & Humanities
3rd Heinz Awards - 1996
Rita Dove received the 3rd Heinz Award in the Arts and Humanities for her success in breathing new life into the essence of poetry.

In 1993, Ms. Dove was named America's Poet Laureate, the first African-American and, at 40 years of age, the youngest person ever to hold that distinguished post. A year later, Dr. James H. Billington, Librarian of Congress, appointed her for a second term, crediting her with having "more ideas for elevating poetry in the nation's consciousness than there is time to carry out in one term." A writer of both poetry and fiction and a Pulitzer Prize winner, Ms. Dove is an artist of broad horizons. In her work, the Black experience is integrated into a larger picture of Western cultures in both the United States and Europe. In a society so enamored of the flashy, the polarized, and the exaggerated, her depth and her finely detailed compositional skills are extremely valuable.

Rita Dove's intellectual abilities were evident at an early age. As a child growing up in Akron, Ohio, she wrote stories and plays for her classmates to perform. In 1970 she ranked among the top 100 high school seniors in the country and visited the White House as a Presidential Scholar. A graduate of Miami University in Ohio and the University of Iowa, she later studied at Tubingen University in West Germany on a Fulbright scholarship. In recognition of her work, she was also awarded fellowships from the Guggenheim Foundation and the National Endowment for the Arts and, in 1987, the Pulitzer Prize for her third book of poetry, Thomas and Beulah, a collection based on her grandparents' lives.

On behalf of her art, Ms. Dove is unfailingly generous with her ideas and her time. She credits her own love of poetry and literature to having parents who encouraged her to "read whatever I wanted." Mindful of this lesson from her youth, she has been especially diligent in attempting to introduce young people to poetry. And above all, she has worked to open minds, young and old alike, to the power of her art form and the many stories it tells.

Today, Rita Dove continues to write and teach at the University of Virginia, where she is Commonwealth Professor of English. Her latest book of poetry is entitled Mother Love, and her verse drama, The Darker Face of the Earth, received its world premiere this past summer at the Oregon Shakespeare Festival. While she often writes about herself, her family, and Black history in America, her work reflects a broad social awareness. Her poems are about people, she says, and sometimes these people are Black. "I am concerned with race," she says, "but certainly not every poem of mine mentions the fact of being black. They are poems about humanity and sometimes humanity happens to be black. I cannot run from, I won't run from any kind of truth."

Note: This profile was written at the time of the awards' presentation.