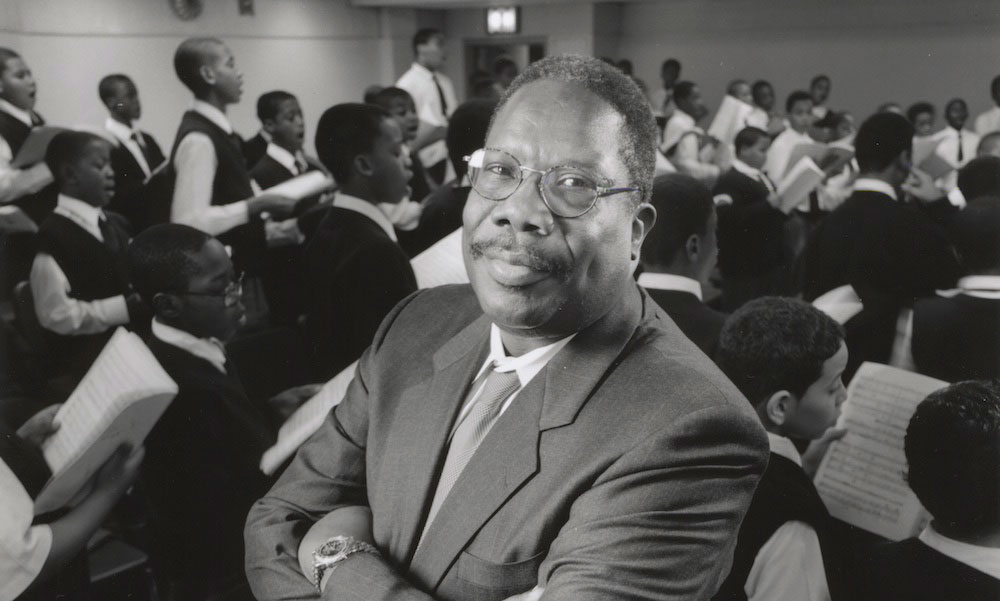 Photo: Jim Harrison
Walter Turnbull
Arts & Humanities
5th Heinz Awards - 1999
Dr. Walter Turnbull received the 5th Heinz Award in the Arts and Humanities for his creation of the Boys Choir of Harlem, an innovative program using music to educate and motivate inner city children to become disciplined, confident and successful adults.

Dr. Turnbull himself has traveled a long and difficult road. From the fields of the South where he chopped cotton as a child, to graduating with honors in classical music and vocal performance from Mississippi's Tougaloo College, Dr. Turnbull eventually settled in New York City where he hoped for a career as an opera tenor. But that professional ambition was sidetracked when he took a job teaching music in Harlem to support himself. There he discovered that despite the lure of the streets and unstable home lives, "music caused kids to focus." Thus, the idea for the Boys Choir of Harlem was born.

It began 30 years ago, when he gathered 20 youngsters in the basement of Ephesus Church. The Choir moved from being a performing ensemble for church services to one presenting concerts and recitals in public venues. Dr. Turnbull's infectious enthusiasm, his dedication, and his relentless enforcement of discipline paid handsome dividends. With its repertoire of Bach chorales, Mozart, spirituals and hymns, the Choir quickly became the pride of the area. And, just as important, it grew, actively reaching out to the community, opening auditions in local elementary schools, and providing academic tutoring and counseling to its members and their families. By the end of 1979, both a touring choir and the Girls Choir of Harlem had been established.

The desire to prove that children from Harlem could succeed academically propelled Dr. Turnbull to create the Choir Academy of Harlem, opened in 1986 as an on-site school serving grades 4 through 8. The program was refined and expanded over the years, until today it is a co-educational, college preparatory school offering grades 4 through 12 to over 500 students. Similar choir academy programs are being established in Detroit, San Francisco, Milwaukee and Chicago, each with advisory support from New York.

Dr. Turnbull specializes in more than cultivating the love of music in children; he is equally dedicated to turning lives around. He and the Choir give at-risk youths a chance to succeed, an opportunity many of them might never have had without Dr. Turnbull's love and commitment. Most are from single-parent households receiving some type of government assistance. But the Choir teaches these youngsters to walk with pride and to hold their heads high, regardless of their circumstances. Dr. Turnbull has commented, "It's not just about the Choir. It's about discipline. It's about feeling good about yourself. That's hope."

It is this spirit, combined with Dr. Turnbull's commitment to his craft, which has transformed a church basement dream into an international success. The path that long ago diverted him from his personal ambitions as a singer has led him instead to create an institution that elevates the art of song, while inspiring hope and pride in young people who otherwise might have none.

Note: This profile was written at the time of the awards' presentation.

REMEMBERING
Walter Turnbull passed away on March 23, 2007.